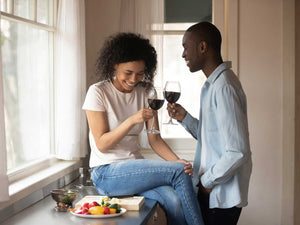 Whether starting with your first home or downsizing from a larger one, a Wine Wall or Wine Panel display may be the next best thing to add to your home. Decorating with wine in your home is a great way to show off your style without invading your space.
Upgrade your Space
When you moved into your first place, you may have bought one of those metal wine holders that sit on your countertop. You filled it with a few bottles you purchased at the grocery store. The next stage in your life is calling for an upgrade in your wine storage. Consider a wine wall or wine panels by Kessick. Leave your countertops clutter-free by displaying your wine on the wall. It's a sleek, uncomplicated way to decorate your first home. Your friends and family will be impressed with your decor choice. It feels like the next step to adulting with such a statement piece of your choice from the Wine as Art collection.
Downsize with Style
Maybe you have had the large home and full house, and life has now changed. You are over the stuffy dinner parties with a traditional setting. Life has moved into calm, contented ease. Now that you have moved into your less complicated space, make your wine display reflect your newfound freedom. You want a more modern look where less is just more peaceful. A Wine Wall fits nicely into your downsized home. You may still want to add that touch of elegance without the full onsite construction crew. It's easy to install, fitting nicely into your new space.
Now for the fun part!
The only hard part about a Wine As Art wall display will be deciding which unique look works for you in your space. There are so many beautiful colors and textures to choose from. Enjoy perusing the Wine As Art by Kessick website.
Leather, wood, textured, and high gloss are some of the options. Single panels or the wine wall option are the staple pieces to choose from, ranging in several rich color and texture choices.
Kessick's Wine as Art collection is perfect for your upgrading and downsizing needs. Check out all the possibilities today!