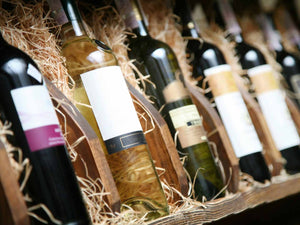 Britannica says art is "something that is created with imagination and skill and that is beautiful or that expresses important ideas or feelings." "Art is so subjective," as many people have stated. If you agree with any of these statements and drink wine, you might consider creating your own statement wall using high-quality wine display systems from Kessick.
Label Colors
Wine labels range from simple illustrations to bold, colorful pictures. What an eye-catching way to decorate using your bottles before or after you drink them to add style and color. Many people purchase interesting bottles just from their aesthetic qualities. Certain colors and styles pull us in with their aesthetic charm. There are regions, maps, homes, designs, and of course, names on the labels. The bottles displayed on a Wine as Art panel or wall by Kessick can add elegance or flair in a colorful expression of your individual tastes.
Changing the Wall
Some things in life or your home are permanent or semi-permanent decisions. A Wine Wall is not a lifelong commitment. If you use a particular color or style in your home, a wine wall could reflect that. Maybe you had a red or green phase, and now you want to color everything on your walls grey; your wine wall can be your pop of color. You may have a Thanksgiving dinner or Christmas party and want to add lighting and wine label colors for a theme to your already beautifully decorated room.
Keepsake Bottles to Personalize Your Display Wall
I know we ended up with several high-end wine bottles at my last work event. It felt weird to throw them away. Some people choose to have everyone sign the bottles they drank to remember who was there to enjoy the fun. Next, adding them to a Wine Display wall is a creative way to keep the memory alive. Also, I tend to forget which ones are my favorites. Keeping the bottle reminds me when I want to order, shop, or share information with someone about what I like the best. Now, I can add it to the wine wall as a keepsake piece to remember the event.
Pick Your Look and Style
Wine As Art wall display panels can come in many looks like wood, textured, and high-gloss. Leather is also becoming a popular option to add a rugged yet refined quality.
Choose your wine hardware with labels forward or neck out for your bottles. Don't forget about your stemware! There is a place to hang them on the wine wall if you choose.
Monet or Merlot?
Decorating with your own, one-of-a-kind wine display can be a colorful way to warm up your wall space. Yes, wine can be art. The display choice is up to you. Shop our complete line of products or contact us to learn more.