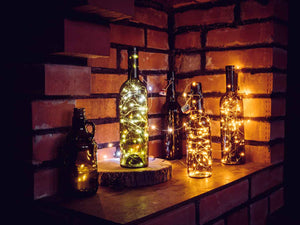 Recycling Your Bottles as Home Decor
Decorating with wine decor is becoming a popular trend for creative crafters or sentimental bottle hoarders. You waited for that special anniversary or birthday to pop open the reserve bottle. Now that the night has ended, you may have a hard time just throwing away that special bottle. The question is, what can you do with it?
The Art of Recycling Wine Bottles
Recycling your bottles into home decor can be a way to keep that sentimental evening alive. Consider making them a light source by adding LED lights inside your bottles to
add ambiance to a room or outdoor setting
use as a pathway to guide your friends to the porch or outdoor kitchen where their dinner is grilling
add a bit of soft lighting to a casual summer night
You can also use a few empty wine bottles as candle votives. If you can safely cut the top off, it can create a deeper candle holder and an inviting atmosphere. Repurposed bottles can be made into
lamps
hanging lights
garden walls 
Get Creative with Corks
Don't throw out the corks! Pinterest lovers can have fun doing art projects. Upon researching this topic, I have seen just about every imaginable cork craft you can think of. Creative juices flowed with
bird houses
necklace holders
cork boards
theme night creations
holiday ideas
and much more
You can buy or create letters spelling your family name or motto. Think 'mountain cabin' or 'lake house' with empty letters that you can fill up with your remaining corks after the good times have come and gone.
A Wall of Memories
You can display your wine bottles on the wall. Your Agreeable Gray paint has been dry for a while now. It could be time for your wall of wine. Wine as Art provides many fun options for displaying your wine bottles on a wall. You used to have a stockpile of unopened bottles, but now they are empty and perfect for adding a nice touch to your wall decor.
A wine wall with empty bottles is like a memory board. Each bottle contains a piece of the past that can be displayed artfully.
Decorating with wine bottles and corks is a great way to let your own creativity take the lead. It can be a way to remember the events and people you shared the evening with. Your repurposed looks may inspire others to do the same.
Contact us to learn more about using a wine wall to display your wine.