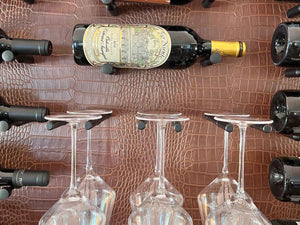 Let's face it. We have all purchased something that looked good in pictures, but once we opened up the package, we realized this was not what we thought it would be. It may have been cheaper in price, but it does not have the quality materials that will stand the test of time.
Know What's Available
If you are looking for a wall wine to display your wine, you may want to research and compare the available types. You may have already discovered your favorite wines, so your display style is your next step. I imagine you want a display wall that is aesthetically pleasing, has quality materials and is easy to install.
Compare the Differences
Comparing the wine display walls out there, we find some differences.
Materials
Let's start with materials. Wine as Art is made in the USA using your choice of real wood, real leather or architectural design panels in textures or high gloss. The metal hardware is offered in a variety of finishes. Wine As Art is the only wall panel system that has LED lighting as an option.
Aesthetics
The Wine As Art panels can be customized to your taste. You may want a rustic look and opt for a wood stain or leather finish. If you are looking for something more contemporary, there are high gloss and textured panels that can be incorporated into your design. The lighting option adds ambiance to any room and is a great add-on for your wall display. If you research the other wine wall display units, you can see the look is very different.
Assembly
Now for the most practical part of the display unit, assembly. Wine As Art comes with the panel you choose in the finish you select. The materials and instructions are part of the package and there are also instruction videos to ensure an easy installation process. After securing the wood back panel to the wall, the decorative panel comes next and then the hardware is arranged according to the pre-engineered design.
Customized For You
You may want to do your own research before making a final decision. I am betting you didn't spend all that time collecting the best wines, only to have them sitting in a box somewhere. You need the right look customized just for you. Wine as Art offers secure installation and visually stunning architectural design panels, but don't take my word for it; see for yourself. There are other options out there, but don't settle for less than Kessick Quality in your wine wall display. 
Contact us to learn more about our unique wine walls, wine panels, and wine hardware.