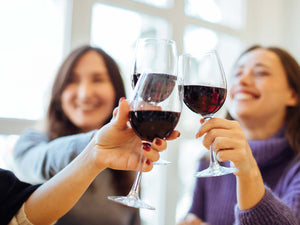 Collecting wine has become a popular trend. Finding a colorfully fun way to display your everyday wines or even your keepsake bottles may not be as complicated as once thought.
Entertaining at Home
Consider a wine wall display to put that special label or everyday drinkable wines right at your favorite gathering spot in your home.
Some people look at wine choices as intimidating. A wall display is an innovative way to start conversations and lighten up the evening.
Maybe you are having a group of family and friends over for an event and want to pick out a few bottles ahead of time. Pre-stock your display wall with common favorites. Unless Sideways curbed your love for Merlot, make it the varietal theme wall.  If you prefer, you could create an ode to California Cabernets. Your guest may not have heard about your summer vacation to Italy. Let the wine wall tell the story through your Barolo artfully displayed for the evening.
Create Interest and Invite Participation
Let your friends grab a vino from the wall display that looks good to them. Wall displays make wine accessible and fun.
You may be a lifelong collector and have been waiting for a way to enjoy seeing those keepsake pieces every day.
A Collector's Delight
When having other wine collectors over, you may have special wines you want to showcase. Pull out those forgotten few that have never seen the light of day.  This can be their moment of recognition. Labels forward in all their glory.
For the Love of Wine
Whether you are just getting into wine or are a seasoned collector, using an easy-to-install wine wall is a colorful, fun new way to showcase what you have. 
Personalize it. Change it to your season or gathering. What a way to add to the enjoyment of the evening.    
It will be a talking point for the crowd, or just enjoy its charm on your own. Either way, it's a new way to share your love for wine with those you care about the most.
Contact us to learn more about our unique wine wall displays, panels, and hardware.