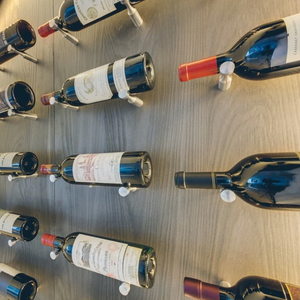 Hardware Worthy of Your Wine
Using hardware to display your wine, with or without a wall panel, is a great option for someone with a limited amount of space to work with. It is also a fun take on "wine as home decor." Hardware can be used in a minimalistic home or condo but with a modern touch. A wine enthusiast might use hardware to create an artistic design that is truly unique. Kessick Wine As Art, when used as wall-displayed wine storage, may be the most simplistic, creativity-inducing, and practical approach to decorating with wine there is.
Simple As It Can Be!
The idea of just using hardware alone is intriguing. It is possibly the easiest wine wall display idea yet. You may not want to overthink your decorating style and stick with some basic hardware options. You will need a cordless drill, level, stud finder, tape measure, and toggle bolt. If you aren't comfortable with using these items, you may want to get someone to help. A wall panel or even a piece of wood can be used with the hardware. Kessick has new proprietary wall washers that safely distribute the weight of the Wine As Art directly attached to your finished wall without the use of a structural panel. Their patented wine hardware comes in three finishes and can be label-forward or neck out. Whatever you may choose, you will be able to liven up your home decor by creating your unique wall display look.
Open Canvas for the Artist
You could also create an intricate design by using just the hardware pieces along with your wine collection. It could be something truly unique to your personal tastes. For instance, you could create the shape of a tree, flower, animal or maybe your state. The "blank canvas" idea could replace a mural or piece of artwork. Include a favorite wine label to add a great a burst of color. You could even recycle your empty bottles for an amazing design piece using only your hardware to create a buildable or permanent display wall. Expressing yourself artistically on a wine wall may just be the personal touch that your home needs. 
The Most Practical Idea Yet
Hardware alone or with a wall panel is the most space-saving idea yet. If you live in a condo or smaller space you most likely still have a wall or two to work with. Keeping wine on a countertop or in bulky display cases may not work for your space. You may want to continue building your wine collection, but again, lack the storage space. This is a great way to keep collecting wine without having to worry if there will be enough wine storage. Having a Wine As Art wine wall may also inspire you to entertain more now that you've created that personal feel that may have been missing.
Using Kessick Wine As Art Hardware is a great idea for decorating your wall, creating useful wine storage, and for making the best use of the space you have. It's easy to install and can be as simple or as elaborate as you'd like. See kessick.com today for all your wine storage needs.